1: I don't live in The Netherlands or Europe, Can I still purchase a Blue Rose Saxophone?
Yes! We can ship the Blue Rose to almost any country on the planet (with only a few exceptions). An additional shipping fee may apply though. Please send an email to service@bluerosesaxophones.com for specific info on your country or city.

2: What level of player is the Blue Rose Saxophone intended for (student/intermediate/Pro) ?
We find the current categorisation of saxophones to work very poorly and to be very confusing and poorly defined. So we choose to use a more specific new description of our own: We like to categorize the Blue Rose as "a Serious Saxophone". We define this categorisation as follows:
A: Blue Rose saxophones are ideal as a long-term serious instrument.
intended for serious players who wish to own a single instrument that offers them the versatility to explore various styles of music and who love our particular sound design. It does not matter if the player is starting on our instruments as a first saxophone or if the player is already a seriously experienced amateur player.
The Blue Rose was envisioned to be an ideal instrument to start on and stay with!
Many pro's have play-tested our saxophones and can vouch that, though understandably missing some of the luxuries of a pro (€ 5.000,- or more) instrument, they love the handling and sound of the Blue Rose and can easily play a professional level gig on our saxophones.
B: Blue Rose saxophones are build to last. With the highest quality blue steel springs and professional level quality pads and resonators. With proper maintenance our saxophones will last a lifetime or more and stay in good condition.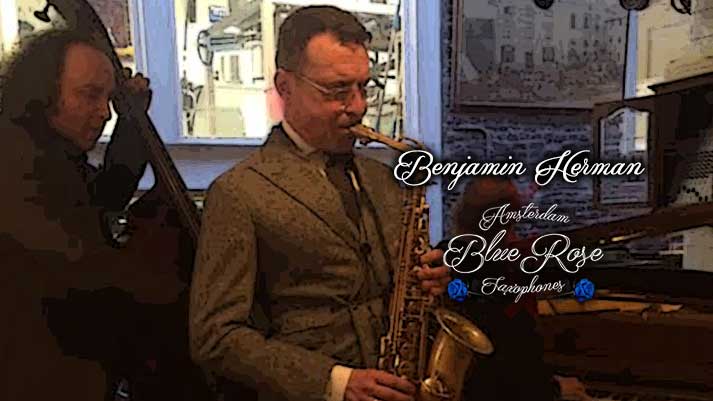 3: Can I play-test a Blue Rose before buying?
Yes! If you are in the Amsterdam area or are able to visit us you can easily drop by and play-test a Blue Rose. Please contact us via: service@bluerosesaxophones.com
If you are not able to visit Amsterdam you can't try it before buying, We only offer a 21 Day Full refund guarantee on non-customized horns. So if you're not happy with you purchase you can simply send it back. As soon as we receive the instrument back in good condition, we will refund you the full sum. (We do not refund costs of transportation). Customized horns or engraved horns are personalized and therefore cannot be refunded.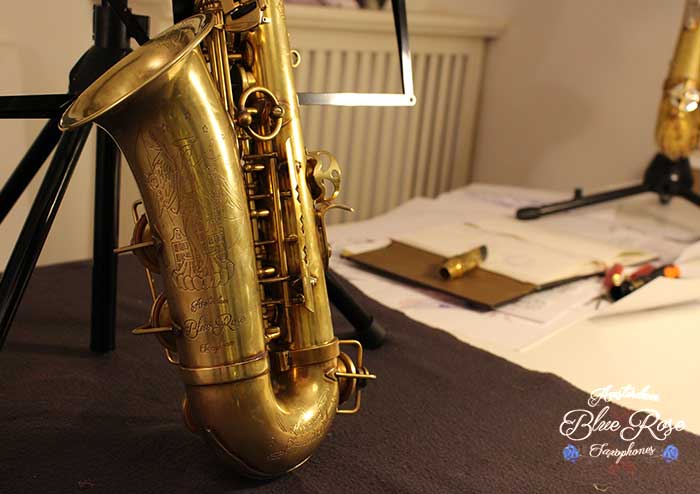 4: Is the Blue Rose available in other finishes like silver?
Yes. We offer 4 options:
A: full brass (Clear lacquered)
B: Brass (Clear lacquered) with nickel-silver plated keys
C: Fully nickel-silver plated
D: Fully Gold lacquered
5: What other customization options do you provide?
We discuss the personal privileges with each new Blue Rose player. Other options include:
A: Spring power (Depending on your wishes we can set the spring power on your sax a bit higher or lower.
B: With or without High F# key? (These days the high F# key is standard, but on most vintage horns these keys are not present. There is a long running debate on what is better. Some players prefer a horn without a High F# key because it makes the instrument a bit lighter and it can help with intonation, but others swear by it. So we make no judgements and offer you the choice (at no extra cost) to have your saxophone as you like it. With or without a High F# key).
6: Do you provide other means of payment besides PayPal?
Yes. Though we advise the use of PayPal since it provides excellent guarantees and buyer protections, but if you can not use PayPal or a Credit Card through PayPal, you can also purchase through direct transfer. Please contact us at: service@bluerosesaxophones.com for specifics.
7: What is the delivery time on my Blue Rose Saxophone after I make the order?
Currently: between 12 and 16 weeks.
This can vary due to the fact that about each Blue Rose Saxophone is largely handmade and goes through extensive play testing and adjusting until we are 100% satisfied your horn truly sings + meets all of our quality standards. The truth is: If you want something truly good for an affordable price, it will take a little time. And we simply have one rule: NO saxophone leaves our shop until it's worthy of the name: Blue Rose Saxophones! If it needs more time, it gets more time!
Read are 2 year limited warranty details here